Artimondo
The e-commerce of AF-L'artigiano in Fiera.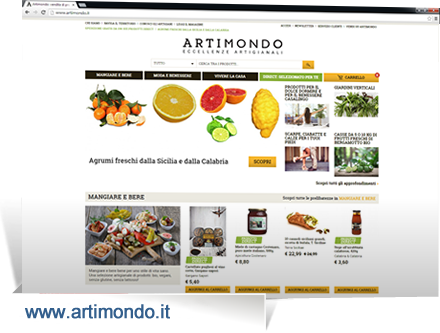 The Artimondo e-commerce platform makes it possible to benefit from contacts made during AF-L'Artigiano in Fiera, all year round. The new electronic platform, which is already online in Europe with direct action in the UK (www.artimondo.co.uk), Germany (www.artimondo.de), Spain (www.artimondo.es) and France (www.artimondo.fr) was created with the scope of innovating and internationalising exhibitors' businesses, giving them the opportunity to launch their products in a broader market, whilst continuing to operate from within their workshops. The new portal showcases the quality of Italian and European artisanship, forever an undisputed symbol of style and good taste.
AF - L'Artigiano in Fiera
International Crafts Selling Exhibition Fieramilano, 30th november – 8th december 2019. FREE ENTRANCE.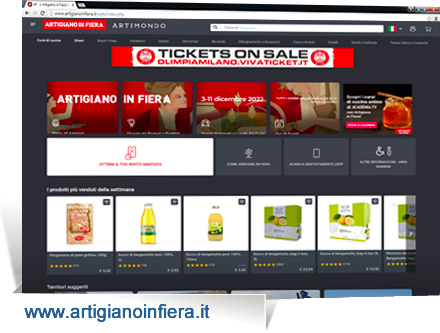 It is the largest trade fair in the world dedicated to artisans. The international event was first held in 1996 with the objective of placing the artisan sector and its enormous production capacity at the centre of attention, creating an event entirely dedicated to this sector. Each year, AF - L'Artigiano in Fiera attracts hundreds of thousands of visitors, creating a global village that places mankind and his working culture at the centre of attention. The 24th edition will take place at the Fieramilano fairgrounds (Rho-Pero), from 30th november to 8th december 2019.
In recent years, Ge.Fi. has also organised:
EIRE -
Expo Italia Real Estate
(from 2005 to 2014) A meeting place for operators in the Italian real estate market to discuss best practices that have been established in their sector. A synergic moment that promotes both the development and the internationalization of this important segment of the economy.
Expo dei Sapori
(from 2003 to 2006) A place where is possible to taste the flavours of wine, food and specialty products, born to highlight the best of food production.
Progetto Città
(from 2001 to 2005) An odd-year biennial show on architecture, urban development, technologies and services for the development of cities.
Expo del Capitale Umano e dell'Innovazione
(from 2003 to 2005) Promoted in partnership with Compagnia delle Opere and the Foundation for Subsidiarity (scientific partner), the expo's objective is to acquaint companies with the potentiality and innovative opportunities offered by research centres, university departments, test laboratories and science parks. As well, it seeks to highlight the route that leads to innovation and the type of "education" necessary to foster and develop people's aptitude to innovate.